How to Unlock the Power of B2B Branding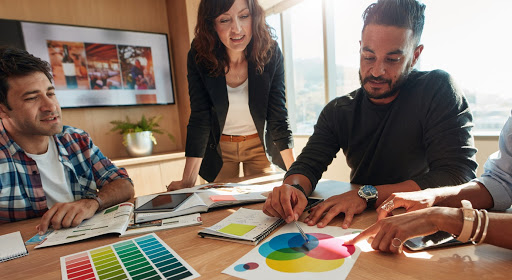 Imagine a conversation with a prospective client. 
What do you want the outcome to be? Do you want to be remembered as someone who not only said the right things but also said them in a memorable way? Or do you want to risk being forgettable?
Done right, B2B branding can ensure your conversation is powerful, relevant, and memorable. 
What is B2B Branding?
B2B branding is the process of taking audience insights and turning them into a more defined framework for providing solutions to consumers. That framework also helps you make your communications more consistent. Perhaps, more importantly, it also helps you draw a more direct connection between what your company offers and what your potential buyers are looking for.
A brand defines your business identity. It's the foundation on which you can build communications that are designed to highlight your core value proposition to consumers. Ideally, your communications should resonate with your target audience. 
B2B marketers face some unique challenges: longer purchasing cycles, the need for personalized services at every point of contact, and the customer focus on functional buying. 
That doesn't mean resonating with your customers on an emotional level is any less critical. Sure, B2B customers make functional decisions when purchasing, but higher-order elements affect their decisions, as well. 
Specifically, your customers need to feel like you're an ally in solving their greatest pain points. That's what B2B branding is all about.
What Makes B2B Branding so Powerful?
The power of a business-facing brand lies in its consistency. At its most basic, consistency in mass communications maximizes consumer interest. 
When consumer opinion lines up with your core values and business identity, success (and revenues) follow. Customers need to see that your brand has a clear purpose, and they need to believe in that purpose.
That said, consistency also means taking a longer-term approach to branding. Research shows, again and again, the negative effects of short-term thinking motivated by the pressure to drive immediate sales. That pressure is also the main reason marketing campaigns fail.
However, when you have a strong brand framework in place, you can focus on building trust. In taking a longer-term approach, you can invest significantly in building and promoting your identity among core audiences. In turn, this established foundation helps facilitate business success.
The Three Components of B2B Brand Planning
Yes, B2B branding is powerful. But, you must take the right steps to unleash its potential. For us, that means a simple three-step brand planning process:
The Brand Matrix

. This is an internal framework that defines everything from your brand's unique value proposition (UVP) to your business culture.

The Brand Platform

. Here, we take insights from the matrix and turn them into a comprehensive foundation for your brand.

The Brand Strategy

. In this phase, we define your audience and refine your messaging. Next, we execute a strategy that drives value for consumers seeking to address specific challenges.
Combine the three, and you get what we call the Saxum Brand Advantage. It's the element that builds not just consistency but also long-term marketing success. In addition, it puts you ahead of the competition and allows you to unlock the true power of B2B branding.