Are you feeling the pressure to enter the world of paid media but aren't sure where to begin? It's easy to feel overwhelmed and get confused in a sea of acronyms — from CPR to PPV — or find yourself lost among walled gardens.
If you feel like you've been thrown in the deep end of the pool when all you wanted was to dip your toes in paid social or display advertising, don't be scared. We've got your lifejacket.
Orienting Yourself in the Media World
To understand paid media, you have to understand all kinds of media and where paid fits in relation to them. Fortunately for new learners, there are only four types — earned, owned, shared and paid, as shown below with examples of each.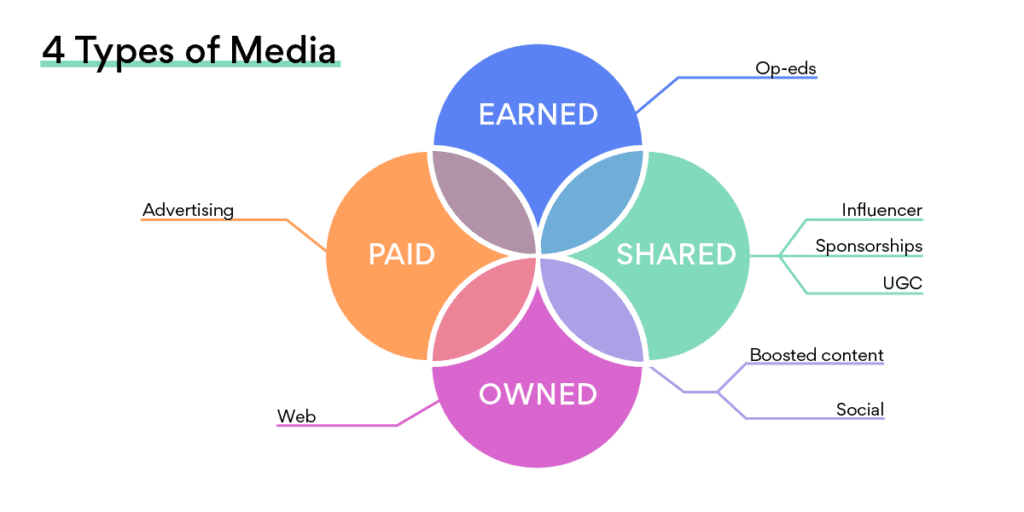 Unless you are a specialist, as a marketer you've probably touched most of the four types of media to some extent, and that experience works in your favor when beginning to think about paid. Paid media is simply marketing placement that you pay for, whether it's good old fashioned print advertisements or highly targeted social advertising on Facebook.
Types of Paid Media
There's a lot of different options when it comes to paid media, but they all fall under two categories: traditional and programmatic.
Traditional media: Media that is anchored in the traditional, manual buying process and is optimized through post-buy learnings. Also referred to as Offline Media.
Programmatic media: Media that is secured through a combination of manual and automated processes and optimized in real-time with the help of algorithms, data feeds and digital tools. Also sometimes called digital media or digital programmatic.
While it can be tempting to discount traditional media and view programmatic as the newer, improved way of marketing, pitting the two categories of paid media against each other is actually a counterproductive perspective. Quite the opposite, the two are actually most effective when they are considered in tandem (more on that here).
This is because the goal of paid media strategies should be an omni-channel approach — a coordinated, integrated media effort that allows all relevant media, online and offline, to work together for the best results and consumer experience.
An important note: there's more to an omni-channel approach than using multiple media channels. While some paid media strategies may at first appear to be omni-channel, upon closer inspection they might just be multichannel. A multichannel approach — like its namesake — uses multiple channels, but these channels are not necessarily speaking to each other or working together.
Your Homework
So now that you've gotten your Paid Media orientation, what's next? We've got some action items for you to begin wading into paid media successfully.
Identify and set your goal and budget. What will make your paid media investment of time and money a success? Number of new leads? A lift in brand awareness? Get everyone on the same page and set an objective, clearly defined goal for the campaign that can guide your strategy and determine what budget you're comfortable allocating towards that goal.
Identify and define your target audience. Running a paid media campaign is a great opportunity to learn more about your audience, but you need to begin with an idea of who you want to reach, even if it's broad. Collect whatever resources you have on your audience — whether it's personas or first-party data — and use it to keep your paid media pointed in the right direction.
Build the strategy. Building off the previous steps, once you have identified your goal, budget and audiences, it's time to use that information to build out your strategy. Determine which channels and tactics are best suited for your budget, goal and audiences.
Decide what you need to say. Now that you know what your goal is, who you want to reach and how you will reach them, pull together the creatives and determine the best way to win the hearts and minds of your audience with your messaging.
Set up and execute your campaign. Tailor and trim your messaging to fit your chosen channels and get in the nitty gritty of the platforms to set your campaign and yourself up for success.
Measure results and refine insights. So you ran your first paid media campaign. Congrats! Now it's time to dive deep into your results and analytics. What can you learn? What can you improve on for next time? Optimization is the name of the game. And if you decide it's time to take the next step with your paid media, we're happy to help.