Celebrating the Diversity of our Team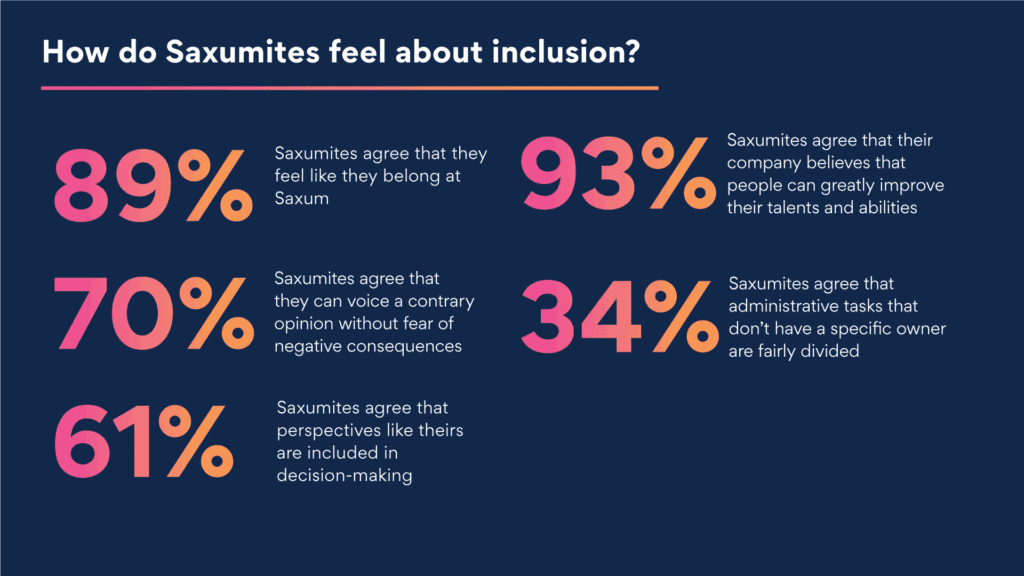 This article was co-authored by Houda Elyazgi, Zahara Chaudhry and Caitlyn Young 
At Saxum, our commitment to Diversity, Equity & Inclusion is embedded in the DNA of our organization. The process, as we've learned, is a long-term effort that is never ending and always evolving. We strive to create an inclusive environment for all of our team members and encourage meaningful dialogue – 1,000 small conversations – in hopes of leading our organization on a path towards meaningful and measurable change and creating a more diverse, equitable and inclusive world. We engage in regular dialogue with our team and work to gather feedback on a consistent basis. 
We recognize an inclusive workplace is one that values individual differences–both visible and invisible–in the workforce, and strives to make all employees feel welcome and accepted. In 2016, we adopted an inclusion statement to reinforce our commitment and to serve as a vision for where we'd like to go. 
"We respect and celebrate the unique attributes, characteristics and perspectives that make all of us who we are. We draw our strength from our collective experiences, fostering a culture of belonging and innovation."
Last quarter, our dedicated team of DEI Champions at Saxum distributed our first survey to measure the agency's DEI initiatives and gather demographic and psychographic data to establish a baseline as our agency continues to grow. 
Measuring our DEI initiatives is imperative for setting clear and measurable goals, and ensuring that the DEI Champions committee makes progress towards those goals. Measurement also holds us accountable. Openly sharing data and goals ensures we stay true to our commitments in an open and transparent way. 
Everyone should know we're tracking toward something. If we're not talking about it and sharing it and measuring against it, then what's the point of surveying our team in the first place? 
Our team developed a DEI Guide that outlines ten questions every organization should be asking around Diversity, Equity and Inclusion. Before your organization develops a survey, we encourage you to review the guide and if a survey is something you are ready to pursue, consider adding questions that are important to your culture. Gather insights that will help drive meaningful results for your organization. 
While we're excited about our recent progress at Saxum there is more to do, and we recognize our work is never-ending and there are certainly areas that require our attention and demand more resources. Our quarterly survey helps us identify the areas where we can focus more resources and continue our work to realize our vision of ONE Saxum, where our employees, clients and friends of the agency always feel welcome and a great sense of belonging.